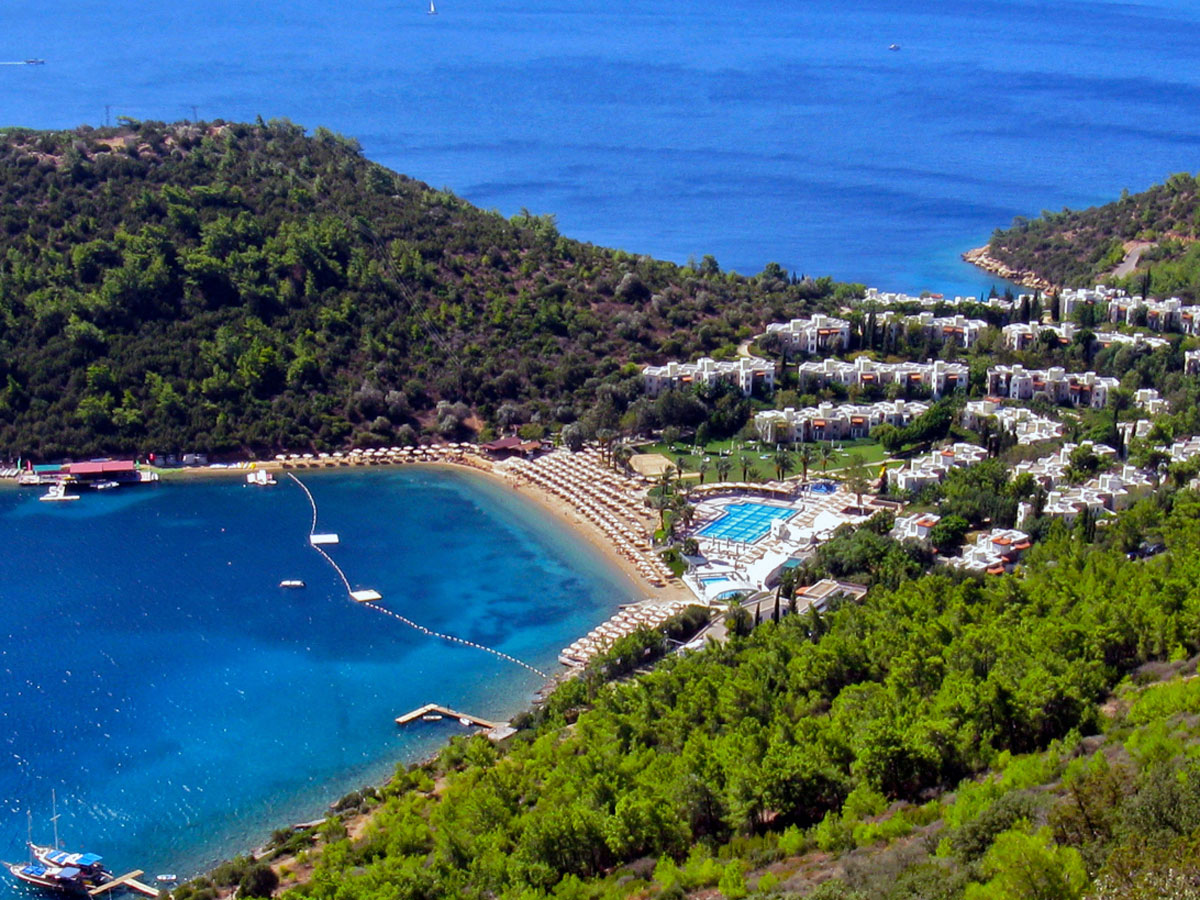 With the Bodrum area of south-west Turkey hosting so many beautiful resorts, it can be a difficult task deciding where to buy property in Bodrum.
The Turkey Homes team have put together a brief area guide for Bodrum that may help you choose your ideal area for Bodrum real estate, whether it's the sun, sea and sand, the wonderful history, Bodrum's charm, or whether you are one to mingle with the stars in the St. Tropez of Turkey.
Bodrum is often referred to as 'The Pearl of the Aegean', and has been a popular holiday destination for many years, for both Turkish tourists and many foreign tourists too, hosting lively party resorts, exclusive resorts, and laid back peaceful fishing resorts, all dotted around the shores of the peninsula, some being ideal for year round living and some more suited for summer holiday homes.
Yalikavak on the north-western shores is currently the most popular resort, with its newly renovated Palmarina attracting luxury yacht owners from around the globe, and Turkey's second branch of the world famous Billionaire Club with its beach parties and top DJ appearances bringing hoards of jet-setters to the area, and one of the best beaches in the Bodrum area, all giving Yalikavak a well-deserved exclusive title. Property for sale in Yalikavak can come with a very high price tag, as the area has seen many changes since the renovation of Palmarina, with some amazing luxury villas close to the marina and often found on the surrounding green hillsides in almost total seclusion, though it is still possible to find bargain properties to suit lower budgets, and with Yalikavak boasting a twelve month season the area has an array of local amenities catering for the high season tourists and its large permanent community.
If you like the idea of the high life of Yalikavak but prefer a more relaxed way of life head a short distance around the coastline to Gundogan on the northern tip of the peninsula, or to the west to Gumusluk, both traditional fishing villages and both unspoilt by mass tourism offering a wonderful laidback lifestyle, surrounded by stunning scenery with flower fields, citrus and orange groves and both sharing some wonderful ancient history. More suited for holiday homes, though there is a small full-time community living in the areas, these resorts offer a little less in the way of amenities though they do offer some excellent restaurants many specialising in locally caught fish and seafood dishes with Gumusluk being a highly popular place to dine in Bodrum.
Bodrum Town, on the south-eastern shores, has long since been a favourite destination for many, a busy cosmopolitan harbour and marina town, and the hub of the area, with a host of everyday amenities and shopping facilities, prefect for year round living. Also sharing a wealth of history, with St Peters Castle standing proudly in the resort, and many traditional stone houses that line narrow cobbled streets, some which have been sensitively restored to the their former glory. As land in Bodrum town is quite scarce, Bodrum Town property for salecan also come with quite high price tags as the demand for quality homes in the area is always extremely high from both Turkish and foreign buyers.
Turkbuku on the opposite side if the peninsula from Bodrum Town, is so far little known by foreign tourists, a very up-market area mostly frequented throughout the summer months by rich Turkish pop stars, models, and athletes etc. often seen in the elite waterfront restaurants or strolling along the boardwalk. With this in mind Turkbuku hosts some of the most expensive property for sale in Bodrum, having waterfront mansions with private beach platforms and jetties having multi million pound price tags, often purchased as summer holiday homes for these rich Turkish people.
Overall with so many areas around this stunning peninsula, Bodrum property can offer you style, luxury, sophistication along with history and fantastic laidback lifestyle, whether you are searching for property as a holiday home, permanent home for relocation, or as a pure investment in Turkey with properties in most areas offering excellent rental yields.